Kugamon versus Conga CPQ
The Difference is the Design. Seeing is Believing.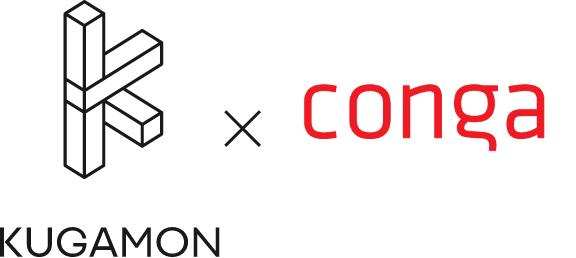 Lack of Deep Salesforce Integration
Conga CPQ is a rebrand of Apttus Quote to Cash, which was architected to work independently of Salesforce Sales and Service Cloud offerings.
Conga CPQ does not use Salesforce Product and Price Book functions, but rather has its own Product and Price Book capabilities
Conga CPQ does not integrate with Salesforce Opportunity Products and thus Pipeline Forecasting in Salesforce is impacted
Customers must create and maintain separate Product and Price books in Salesforce and Conga CPQ
Kugamon has been architected to seamlessly integrate and extend Salesforce Sales and Salesforce Service Cloud offerings.
Kugamon uses Salesforce Product and Price Book functions for a tighter Salesforce integration
Kugamon enhances Salesforce Pipeline Forecasting functionality with Real-Time updates, Complex Subscription Metrics, and much more
CPQ Not a Priority (Former Apttus Q2C)
Since the purchase of Conga by Apttus, and the subsequent re-branding of Apttus to Conga, the company's focus has been on Contract Lifecyle Management and Document Generation
Conga CPQ has not received any significant updates since the purchase and has not been optimized for Salesforce Lightning platform
Kugamon is dedicated to the Revenue Operations segment
Since our founding in 2009, Kugamon has continuously improved our solutions with a predictable upgrade cadence
We are averaging a Product Release at least once per month
Built for the Enterprise, Not Small and Medium Businesses
Conga CPQ is a very capabie solution for Businesses with Salesforce Developers on Staff
Conga CPQ is designed for Customers who do not use Salesforce Sales Cloud or Service Cloud offerings, meaning Customers who do not manage their Pipeline in Salesforce
Kugamon is designed for Customers to Self-Implement and Administer
This is accomplished by it's intuitive design and thoughtful application behavior, where Administrators and Users can easily understand Kugamon
Salesforce Consulting Partners not required to implement nor customize Kugamon
High Cost of Ownership
Conga Implementation Costs are typically 2X to 3X the License Cost
Due to the nature of custom Implementations, updates and changes require re-engagement with outside Consulting Partners and Developers
Kugamon Implementation Costs are typically 1/4th to 1/3rd the License Cost
Due to the intuitive design and thoughtful application behavior, Administrators and Developers easily understand Kugamon
Kugamon Package Manager makes upgrades straightforward and a pain-free process
Salesforce Consulting Partners are not required to implement nor customize Kugamon
Great Product, Great Team !!!
Jobscience is a Salesforce ISV that builds and sells Recruiting Solutions on the Salesforce Platform.After researching the AppExchange and considering options ...
Reviewed other Apps, and found Kugamon best fit for our client.
We are a Salesforce.com consulting partner, and after reviewing other apps, our client decided that Kugamon made the most sense for their business. Kugamon has ...
This CPQ has been a joy to implement
Today, we launched phase 1 of our Kugamon CPQ implementation. CPQ is tough work, there's no way getting around it. Partnering with Kugamon and their ...