What is Sales Operations?
Sell more effectively with better processes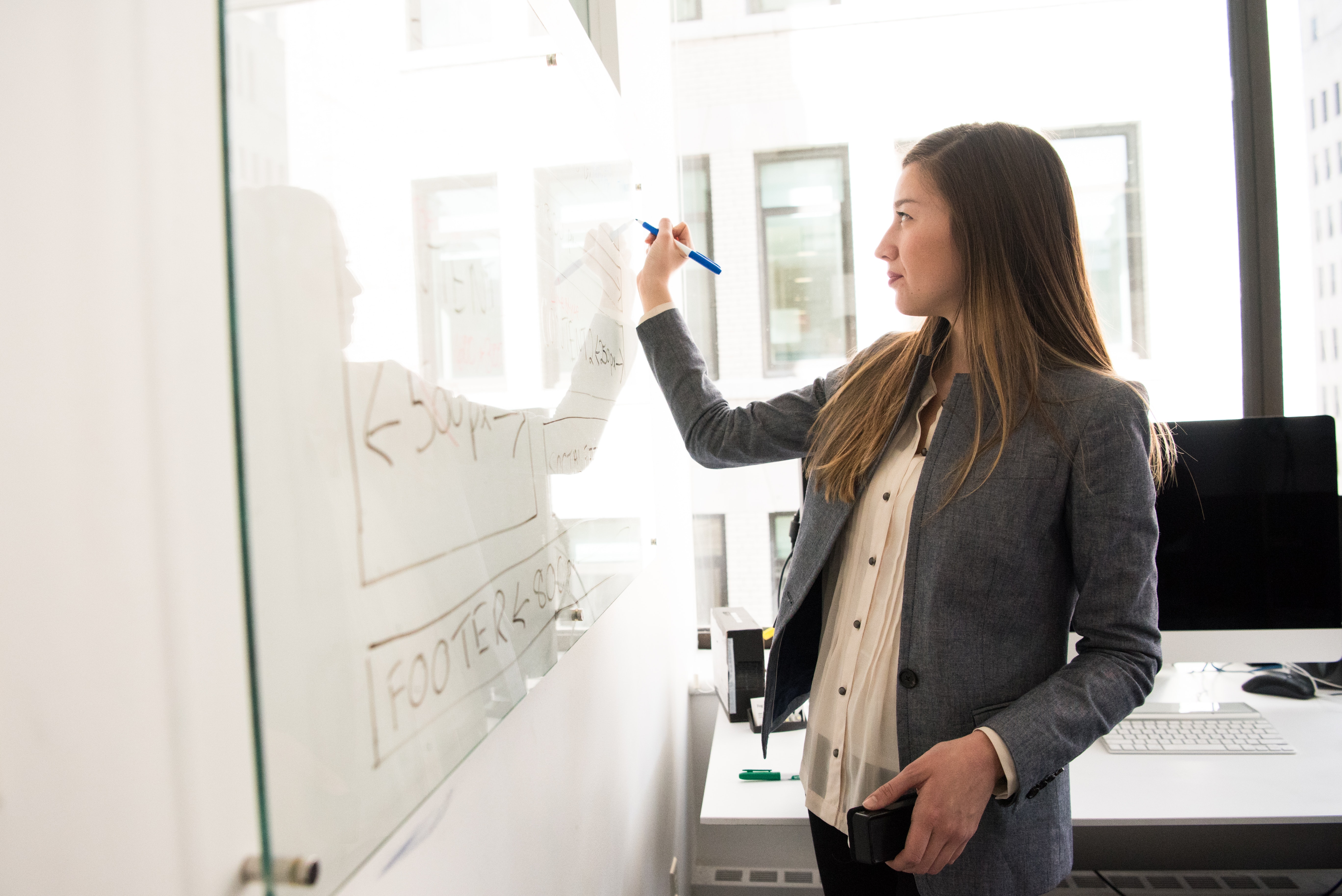 Salespeople are usually the "face" of the sales cycle – working with the customer to define and offer solutions that improve their organization's performance. To do their job more efficiently, Salespeople rely on technology, processes, data analysis, and marketing interfaces to help accelerate their deal cycles and guide them to successful outcomes.

The tools that help Salespeople drive deals forward can also come with major challenges – data in the CRM needs to be maintained, processes need to be created and optimized, Sales technology requires research, selection, and management, the right analytics need to be gathered and processed.

Enter Sales Operations who support and enable the Sales team to sell more effectively by managing all of the non-selling tasks of the sales process, reducing friction wherever possible, and providing strategic guidance. Sales Operations drives revenue and helps Sales teams close deals faster by promoting operational efficiency and freeing Sales from internal and administrative duties to give them the opportunity to focus on the customer.

Benefits of Sales Operations
What key challenges does Sales Operations help businesses overcome?

The overall goal of Sales Operations is to reduce as much friction as possible in the Sales process to allow reps to maximize their selling time and increase Sales productivity. But what are some of the specific challenges that Sales Operations help solve in order to help organizations grow their revenue and profits?

Eliminate "Selling Thieves"
"The unspoken, overall goal of sales operations, is to reduce or eliminate selling thieves. Any process that takes the salesperson out of the field, or off the phone, or away from selling, is a sales thief."
Jeffrey J. Fox, Founder of management consulting firm Fox and Company.
Sales Operations is responsible for assessing and providing solutions to those processes that are "Selling Thieves". This usually includes automating or taking on administrative tasks that Salespeople are tasked with. A great example of this is quote generation. In many organizations, the process of creating a quote is a huge time drain due to manual processes and stand-alone tools such as Excel. Solutions such as CPQ (Configure, Price Quote), can help to automate the process. Research shows that CPQ can help reduce Sales cycles by 13%, increase revenue by 48% and improve margin growth rate by 57% (Aberdeen).

Optimize Processes Across Business Units

Many times deal cycles stall due to the sales organization's inability to align with other business units they are dependent upon in order for deals to move forward. Sales operations play a key role in smoothing out those road bumps by defining and optimizing processes where Sales continuously align with diverse functions in an organization. An example would be setting up automated approval workflow processes between Sales and other business units such as Finance, Engineering, Legal, Marketing, and Management.

Simplify Data Interpretation
Sales Executives rely heavily on execution from their Sales team to reach results. However, many Sales organizations have a generous amount of data at their disposal which can help them to optimize productivity, improve the performance of sellers, and increase revenue.

The issue is compiling and organizing the data into useful dashboards that Sales Managers can interpret effectively and take appropriate action. Being the analytical heroes that they are, Sales Operations can help manage the labyrinthine of information to create, and continually optimize effective dashboards and define correct KPIs in terms of Sales use cases and other business units as well.

Facilitate One-on-One Manager/Rep Reviews
An effective one-on-one between Sales Manager and rep can have a major impact on sales performance and helps reps better understand and motivate them to desired behaviors.

An effective manager-seller conversation improves commercial performance by explaining things in a way sellers understand and motivating them toward desired behaviors.

Despite the positive impact one-on-ones have, Sales managers struggle to have these conversations. Sales operations can provide guidelines on when it is best to have these sessions, what topics are most relevant, and provide the tools necessary to personalize the discussions.

Sales Operations Best Practices
While each organization has its unique needs, common underlying principles guide many Sales Operations processes.


Define a Mission Statement
Keep the Sales team focused with a clear and concise mission statement that supports your organization's goals and sales strategy.

Identify KPIs and Sales Metrics
We identified some common KPIs in this article that can help, each organization has their unique perspective on what KPIs are important. Make sure your team understands what sales metrics are measured and why.

Champion the Right Technology
Evaluate your team's existing and developing needs and define functionalities that can help improve their Sales productivity. Choose solutions that can consolidate multiple capabilities, will scale with your business and provide excellent support.

Collaborate with Other Departments
The role of Sales Operations is evolving and their role in organizational strategy is a pivotal one. Therefore it is vital to put processes in place that align sales data with multiple business units.

Invest in Future Growth
Artificial Intelligence is making its way to every facet including in the Sales process. Automation and AI will provide new opportunities for you to improve Sales productivity, shorten Sales cycles, and ultimately increase revenue for your organization.

Measuring Sales Operations
Which Sales Operations KPIs & metrics do you need to measure?
KPIs are a key component for Sales Operations to measure if processes and models put in place are working and also show weaker links where those processes can be optimized. Here are some commonly used KPIs that evaluate and improve organizational results.


- Close Rate
- Customer Acquisition Cost (CAC)
- Quota Achievement Rate
- Average Sales Cycle Length – Sales Velocity
- Time Spent Selling
- Customer Lifetime Value
- Lead Response Time
- Weighted Pipeline Value
- Sales Forecasting Accuracy
- Defining the Sales
- Operations Role
What are Sales Operations' responsibilities?
Depending on the size and culture of the organization, the responsibilities of Sales Operations can vary from company to company. But at its core, many Sales Operations have similar roles and follow certain standard working processes aimed to fine-tune the entire Sales process. Sales Operations duties are usually a mix of both strategic and tactical:

Some of the Strategic Functions Include:
- Optimizing Sales processes
- Helping Sales leaders make data-driven decisions
- Technology management
- Data management and analysis
- Training programs
- Performance analysis
- Sales forecasting
- Cross-departmental collaboration
- Defining and assigning territories
- Tactical Sales Ops Functions can Include:
- Maintain and leverage CRM platforms
- Lead generation
- Dashboards
- Automation of repetitive processes
- Pricing
- Sales and product
- The Value of Sales Operations
Why is Sales Operations important?
At its core Sales Operations ultimately has one goal – to help Salespeople close more deals faster. So a large part of the success and increase in revenue rests squarely on Sales Ops shoulders. However, in today's ever-evolving sales landscape, a lot of things have to happen and processes need to be completed before a Salesperson can actually make a call. That is where Sales Operations comes in.

Sales today is about more than just hitting targets. Management is continually appraising the increased cost of sales, longer buying cycles, higher customer awareness, and competition. In addition, technological advances are changing the way businesses compete. Sales Ops are not only tasked with finding the solutions that will optimize sales processes, but also with building a structured process that helps sales reps succeed and drive the company's revenue and growth forward.

Building a Sales Operations Team
What are the characteristics of successful Sales Operations teams?

As mentioned before, the key goal of the Sales Operations team is to support and enable the Sales team so they can focus on selling. As the organization expands, the roles and characteristics of Sales Operations evolve but there are common personality traits that are beneficial when a company hires a Sales Operations Manager and builds a Sales Operations organization.

Communicative and articulate.
A Sales Operations professional needs to coordinate and align with business units and personnel on many levels (from junior level to executive). They need to be able to communicate sales strategy and break down data in a way so their audience understands the significance of it and sometimes even change minds.

Analytically oriented
A big part of the Sales Operations role is to look at different types of data in different formats, organize it in a way that is digestible, and offer conclusions that can help optimize processes in the organization. The data is the heart of most optimization processes so a successful Sales Operations professional is one who is comfortable "getting their hands dirty" with data.
Amiable. Sales Operations are connected in one way or another to almost all business units in an organization. Therefore the ability to build relationships at many levels is a crucial part of the Sales Operations role.

Technically oriented
Many times Sales Operations are called upon to be creative in offering solutions that did not exist before. Having a technical background and some developer experience can be useful when analyzing and implementing sales technology that is meant to improve efficiency.
Logical. Sales Ops teams build workflow processes and need to understand the logical steps the workflow needs to progress through.

Resolute
Sales Operations need to have a strong personality to be able to stick to frameworks that make sense for the organization despite the desires or whims of different business units.
Curious. Piecing together data to tell a story is an art form and there are many ways to do it. A successful Sales Operations will be curious about the data itself and continually think of how to mold it so it conveys a message.
Different stages of organizational growth require different hiring stages within sales operations departments. In his post Building Sales Operations Within Your Start-up, Matt Cameron, recommends which Sales Operations functions your organization should hire at different growth stages according to Annual Recurring Revenue (ARR).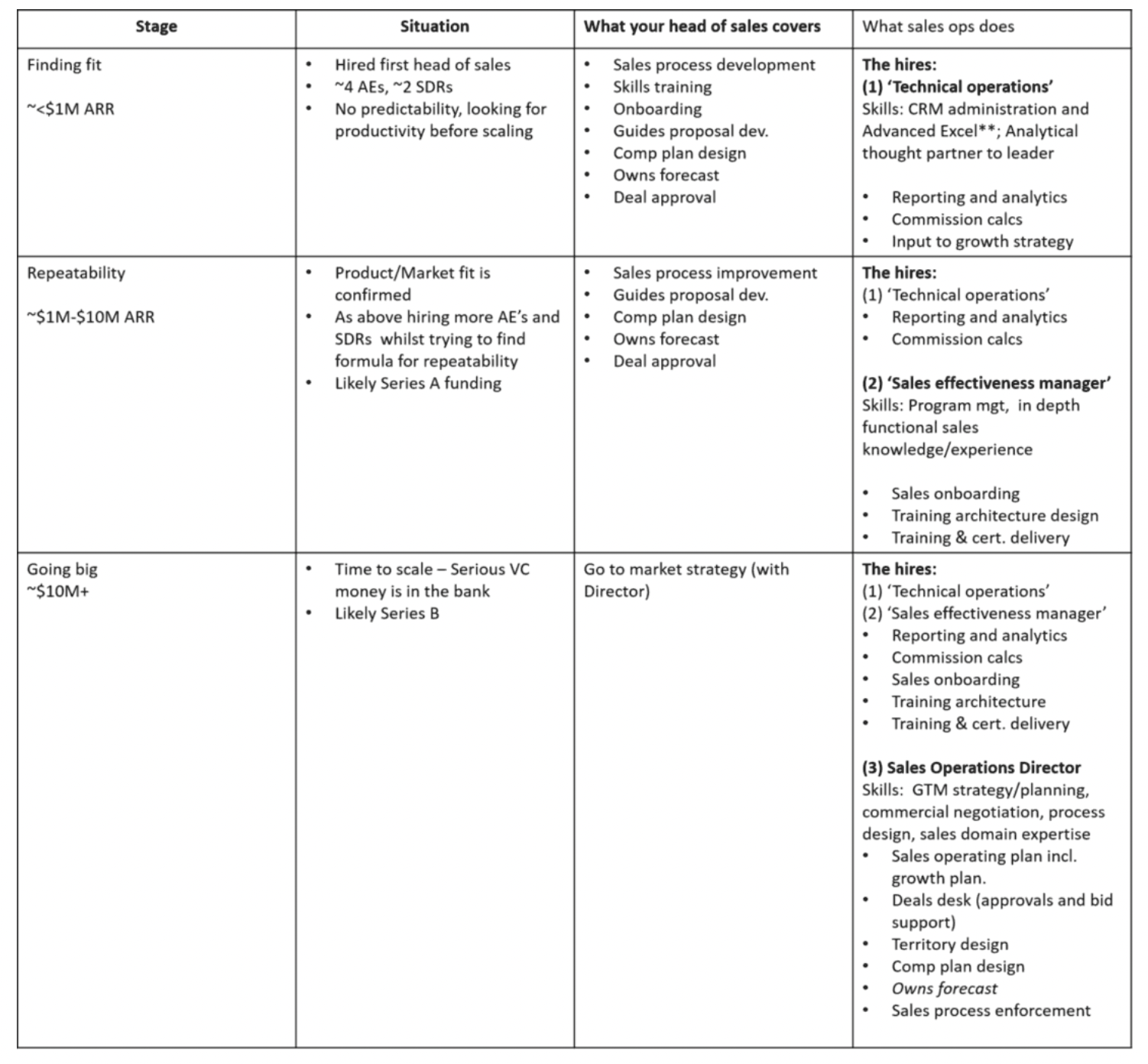 Table by Matt Cameron
Up to 1 million ARR
At this stage, most organizations are small operations and the Sales Ops role will be more technical – many times 1 person. While still small, it is a good opportunity to lay the groundwork for growth by aligning business units from the get-go. The hire(s) should be able to take on administrative responsibilities and free up time for the Salespeople. It should be someone with advanced Excel skills and the ability to serve as an analytical partner. At this stage the Sales Operations organization will be responsible for:
CRM Administration
Reporting and Analytics
Commission Calculations
Providing input to growth strategy
From $1M to $10M ARR
As the organization grows they should consider adding on a "Sales Effectiveness Manager" who will be able to offload many of roles that are filled by a Sales Manager when the company was smaller, this includes:
Sales Onboarding
Training and architecture design
Sales training and certification delivery
The Sales Effectiveness Manager should have in-depth functional sales knowledge and experience, and also possess program management experience.

$10+M ARR
At this point the Sales Effectiveness Manager will take on even more roles including:


Reporting and analytics
Commission Calculations
In addition, the organization should look to hire a Sales Operations Director who will be responsible for:
Go-to-Market Strategy
Process design
Planning commercial negotiation
Sales operation and growth plan
Deals desk
Territory and compensation plan design
Sales process enforcement
Owning the sales forecast
While relatively new, the Sales Operations is rapidly becoming the indispensable role for companies focused on accelerated levels of growth and expansion. Kugamon RevOps provides an indispensable platform for Sales Operations to help opportunities close more rapidly, deliver higher levels of customer satisfaction, and increase sales rep productivity in a highly intuitive package. We encourage you to investigate Kugamon RevOps for yourself and how you can change the game yourself - before it gets changed for you!